About Us

We, Sun Acrylam Pvt.Ltd., are a renowned manufacturer and service provider engaged in the production of laser cutting & engraving machines, Switchboard Manufacturing Machines, All kind of acrylic sheets, Bakelite Sheets, Fabric Sheets, hylam sheets & Rod, All kind of stencil sheets acrylic pipes, and other such products at highly competitive rates. These products are manufacture with the best quality raw materials which we procure from some of the most certified vendors of the industry. Products such as Hylam Sheets and Bakelite Sheets are are mostly required in Chemical, Cement, Electronics, Electrical, Automobile industries and also for furniture making because of the important features of these products such as high resistance to electricity, dimensional accuracy, heat resistance, mechanical strength, water & weather proof nature and resistance to rust. In addition to this,
Since, our inception in the year 1986, we have been climbing the ladder of success by always meeting up with the bulk and challenging requirements of our customers. With the use of innovative technologies and advanced machines we are able to produce almost 10,000/- Pcs. Per Month of Hylam Sheet, Acrylic Rangoli- 50,000/- Pcs. Per Month, Stencils- 5,000/- Pcs. Per Month, Switchboard Manufacturing Machine-25 Pcs. Per Month. Each of these products are tested before dispatching the products so as to ensure that these products are as per the customer's expectation and is free from defects.

We guarantee easy transportation: All over India as well as world.
We equally treat all kind of clients irrespective of their size
we also provide laser cutting job work services to all our clients.
Why Chose Us?

We have attained a leading position in this industry by following certain standards such as:
Offering Premium Quality Products
On-time delivery of Products
Easy Payment Modes
Market leading prices
Customer based approaches
Highly Committed and Hardworking Workforces
Well-equipped Manufacturing unit With Spacious warehousing facility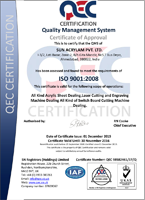 Read More